Graduation Refelction
May 03, 2021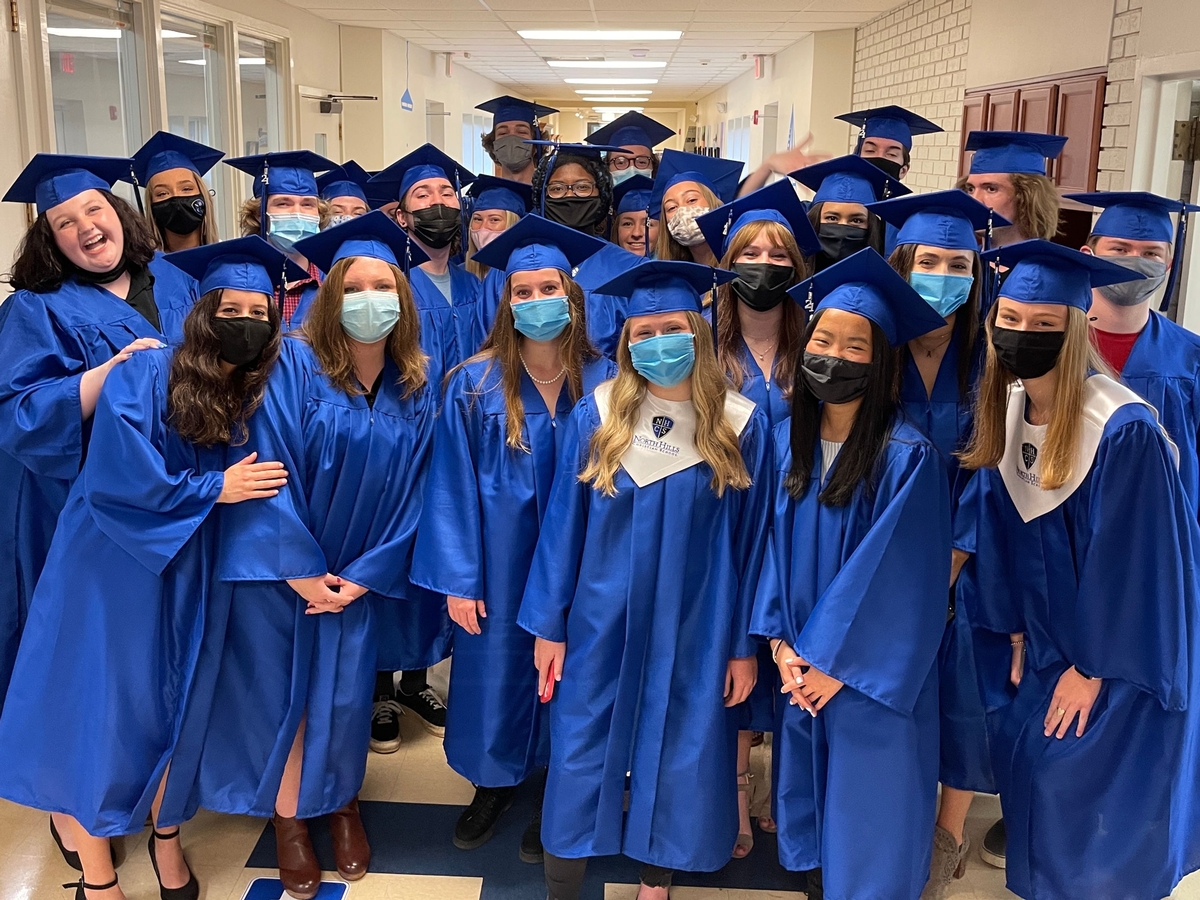 As we near the end of this school year, our seniors definitely have one particular date in mind - May 21. This is the day for which they have worked and the day for which their parents have prayed. It will be a day of celebration, but it will also be a day for a great deal of reflection as once again pictures of the life of the young person from birth to now are shown. Many precious memories of special moments will be on the minds of students and parents alike. Reflection is a valuable process. Several weeks ago, we asked our seniors to reflect on their time here. From their responses came the following words:
"Growing up at North Hills was a blessing because everyone was so loving and teachers actually care. I don't have a specific favorite memory. It's more like a compilation of fun times I've had with friends during school…. or serving as the drum major and getting to march in our first parade as a marching band… or basketball during our junior year when we beat one of our biggest rivals twice…. or having an ice cream party after learning the times tables in third grade… or being given a chance to find, create, and improvise a song for the drum line that got us into Disney… or the little parade in our honor that took place after senior pictures.... or spending time with my teammates on and off the field. These boys are like brothers now.
My favorite memory is the high school retreats. I was able to bond and grow closer to so many teachers and other students. I prayed over people and cried with people, and we all grew closer to the Lord together. I remember walking into a service a little late and what I saw showed me the heart of the teachers. They were all praying over students. Another is when we all got up early to watch the sunrise and have our own Bible study. My walk with God has grown because of the godly leadership I've been under. I have learned how to think for myself, and I can back up answers to tough questions. I've been impacted emotionally, spiritually, and physically. I've grown closer to the Lord, made new friends, and pushed myself to be the better me."
If you currently have a child at North Hills, I challenge you to think back over the precious memories of this year or previous years. If you are a former student, stop to think about the memories that you cherish. In Proverbs 10:7, Solomon makes the statement, "The memory of the righteous will be a blessing." Take time for reflection and receive the blessing of precious memories!
Minds:
Make a list of the moments that you would like to emblazon on your memory… those that bring you the most joy. Tuck it away in a Bible or somewhere special, where you can find it in years to come. If your memories deal with the accomplishments of your child, save it for when he or she is older and reflect on the growth.
Hearts:
Thank God for precious memories!